Do you sit at your computer all day and suffer from neck, shoulder, or back pain? You are not alone. Physiotherapy can help you.
If you are like 75% of today's workforce, you probably sit at a desk staring at a computer all day(1)(2). You may not think to take standing breaks periodically or to go for a short walk to break up the monotony of your day because you're in a crunch to make that fast-approaching deadline. Unfortunately, this is a reality for most people. These prolonged sitting postures can and do lead to injuries if not addressed properly.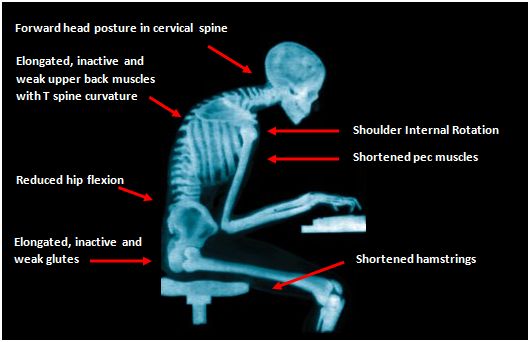 Work-related musculoskeletal disorders are injuries to the body's tissues associated with workplace risk factors(3). They are most commonly referred to as repetitive strain or overuse injuries. As the name suggests, these injuries are a result of repetitive loads placed on the body's tissues.
"These prolonged sitting postures can and do lead to injuries if not addressed properly."
Canadians between the ages of 18 and 79 spend on average 9 hours and 48 minutes of their waking time being sedentary(4). This is in large part thanks to advancements in technology, transportation, and entertainment. Not only are we subjected to repetitive strains at work but also in our vehicles and homes(5).
The good news …
The good news is that these effects can be reversed and further strain prevented. As a clinician with lots of experience treating workplace injuries, I can offer you a comprehensive plan to help in the fight against repetitive strain injuries.
My program comes complete with strategies to reduce the load placed on your tissues throughout your work day; a strengthening and stretching program to reinforce or stretch those hard-working postural muscles; and finally, manual therapy to help restore movement to those stubborn joints.
Did you know … ?
Did you know that you don't have to wait to see your family doctor to book an appointment with a physiotherapist? To book an appointment with me is easy. Just click here and choose the day and time that works for you. Or give us a call and we will find the best time for you. Physiotherapy treatments are often covered by Extended Health Benefits. We offer direct billing to major insurance companies, so you don't have to worry about it. You can just focus on getting better.
Together we can put an end to that stubborn neck, back or shoulder pain. So, don't wait any longer. Call and book your physiotherapy appointment today!
References:
(1) Ergotron JustStand® Survey & Index Report http://www.juststand.org/portals/3/literature/SurveyIndexReport.pdf
(2) National Center for Biotechnology Information https://www.ncbi.nlm.nih.gov/pmc/articles/PMC2200681/
(3) National Center for Biotechnology Information https://www.ncbi.nlm.nih.gov/pmc/articles/PMC2528269/
(4) Statistics Canada http://www.statcan.gc.ca/pub/82-625-x/2015001/article/14135-eng.htm
(5) The Importance of Movement in the Workplace http://www.allsteeloffice.com/SynergyDocuments/Allsteel_ErgonomicsMovementInTheWorkplace.pdf
Please follow, like and share us: